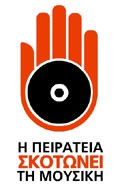 Welcome to IFPI Greece

IFPI (International Federation of the Phonographic Industry) represents the recording industry worldwide, with a membership comprising some 1300 record companies in 57 countries.
IFPI Greece, the Hellenic music industry Association, is since the '80s responsible for the weekly issue of the only official sales charts in our country.

Years have passed, but music remains...
a history of recorded music in 90" by IFPI